Standard steady rest from stock - with collapsible top
Type 1-1-1 Model 3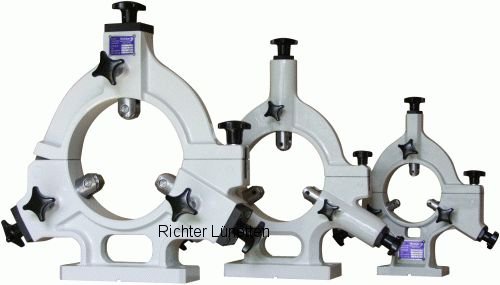 .

Serienlünette


available in the sizes
D max = 100, 150, 200, 250 and 300 mm

Richter steady rests and steady rests are usually manufactured by us from gray cast iron to order for the special applications and machine tools of our customers within 8 to 12 weeks.

Based on the customer requirements of the last few years, we have now developed a series of standard steady rests that we keep in stock for you. Due to the universally held straight foot with fitting groove, these steady rests can be clamped immediately on drilling and milling tables.

With an intermediate piece that we have made to order, they can be used immediately on any lathe with sufficient center height.

We also offer you matching pillars for this series of standard steady rests. In this way, long workpieces that protrude through the headstock can be safely supported there outside of the machine.

Click here for the flyer about our Standard Steady Rests downloadable as a PDF document.