Ring
Type 12-1-1 Model 1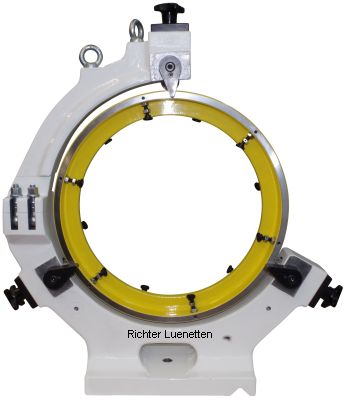 .

219164
| | |
| --- | --- |
| Operating Range | : Dmax 490 mm - Dmin 400 mm |
| Centre Height | : 360 mm |
| Max Work Piece Load | : 300 kg |
| Quill diameter | : 40 mm |
| Machine tool | : Weiler E70 |
We have developed a swarmer to hold very sensitive workpieces, which is held in a Richter steady rest type 5-6.
Using the special, finely adjustable clamping plates, the workpiece can be clamped exactly in the concentric run without deforming or damaging the workpieces. The contact surface can be covered with different materials that correspond to the material which has to be clamped.
Ring:
Clamping plates: 12 pieces with fine adjustment
Clamping range: 350 - 345 mm
Positioning: via three stops on the steady rest housing

The system can be used for turning, milling and grinding applications.