Roller Steady Rest with 2 quills
Type 8-1 Model 4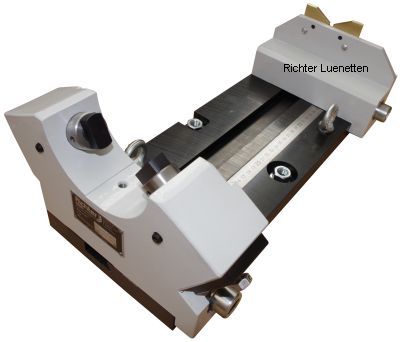 .

219056
| | |
| --- | --- |
| Operating Range | : Dmax 55 mm - Dmin 45 mm |
| Centre Height | : 147 mm |
| Max Work Piece Load | : 100 kg |
| Quill diameter | : 30 mm |
| Machine tool | : Sondermaschine GF Machining Solutions GmbH |

This roller block is assembled in combination with a workpiece holder on a universal base plate. The distance between the roller block and the storage unit is set using a ruler embedded in the base plate.

The workpiece is placed on the brass prism. Then the roller stand is started.

The workpiece contact is realized with:
- Xylaglide for grinding, coating, measuring and 3D milling as well as
- Rollers for turning for rough machining.