C-Form Steady Rest with swivelling top
Type 5-1 Model 12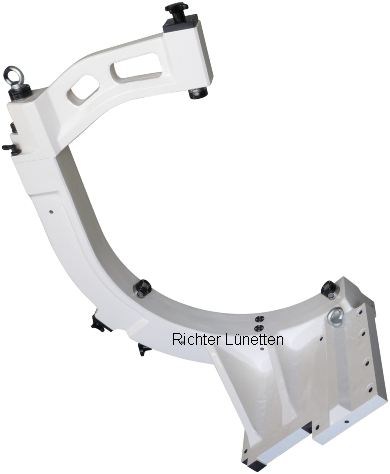 .

216 167
| | |
| --- | --- |
| Operating Range | : Dmax 1000 mm - Dmin 790 mm |
| Centre Height | : 588 mm |
| Max Work Piece Load | : 500 kg |
| Quill diameter | : 60 mm |
| Machine tool | : Mazak Integrex e-670 H2 |

Steady Rest with swivelling top.

The Mazak e-670 H2 has a max. swing diameter of 1070 mm. The narrow Steady Rest body enables the machine to have a largest possible clamping diameter of 1000 mm.

The C-shaped Steady Rest is screwed directly onto the steady rest preparation of the Mazak e-670 H2 with the appropriately constructed foot and can be used immediately after arrival in your factory.

The rollers have a special encapsulation with combined purge air to keep chips mixed with cooling lubricant away from the rollers. This ensures that the workpiece runs smoothly and the rollers have a long service life.

The operator can ergonomically and time-savingly set all three quills to the correct workpiece diameter from the front.

Thanks to the swiveling upper part, the machine can be quickly loaded and unloaded with workpieces by crane.